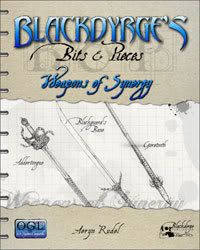 We've just released the first product in all new 3.5 OGL line:
Blackdyrge's Bits & Pieces: Weapons of Synergy
. The
Bits & Pieces
line will bring you all sorts of innovative and interesting material for your 3.5 OGL game. Everything from feats and magic items to spells, monsters, and even new weapons will be detailed in upcoming installments. And, of course, each installment features more insights from Blackdyrge himself, as the lich sage proves that there are more than monsters lurking in the collected pages of his notebooks, tomes, and portfolios.
The first product in the
Bits & Pieces
line presents 12 new "synergy" weapon special abilities that augment and expand features your character already has. Although a synergy weapon special ability offers some minor enhancement to all wielders, its true powers are unlocked only by those with the correct feats or class features, allowing PCs to get more out of their magical weapons than just a bonus to attack and damage rolls.
Also, in case you're wondering, Blackdirge Publishing will be supporting the new 4th edition. However, as the above product indicates, we will still provide support for the OGL. Stay tuned for an official announcement regarding our 3.5 and 4E plans in the coming weeks.
Thanks
BD