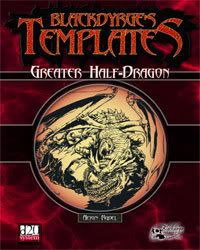 Isn't it odd that a dragon barely old enough to breed and a rampaging great wyrm produce the exact same half-dragon? As dragons get older, they get tougher, and so should their half-dragon spawn. Blackdirge Publishing offers a solution to this problem with
Blackdyrge's Templates: Greater Half-Dragon
.
Greater half-dragons are the progeny of powerful dragons of age category ancient and older. Due to their great power and magical nature, these mighty wyrms are able to pass on more of their draconic traits to their half-dragon children. The resulting greater half-dragon is a potent hybrid that can easily rival true dragons in strength, ferocity, and power.
So give the half-dragons in your campaign an upgrade, with Blackdirge Publishing and
Blackdyrge's Templates: Greater Half-Dragon
.
Blackdyrge's Templates – Greater Half-Dragon
contains 16 pages of new d20 material and includes the following:
An introduction by Blackdyrge.
The greater half-dragon template.
Iconic monster #1 – the bizarre and dangerous dracotrice.
Iconic monster #2 – the stony eyed greater dracolisk.
Iconic monster #3 – Dardalion Wyrmscourge, a vengeful human silver greater half-dragon and wyrmslayer.
Iconic monster #4 – Azashar "The Bronze Sentinel," a mighty storm giant bronze greater half-dragon.
Fantastic illustrations by Hunter McFalls.